Ineke Pottery, a family affair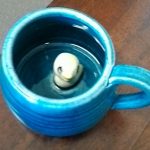 Collecting information on Ineke Pottery has been difficult – it is almost impossible to find details about this artist and her pottery on the web. I'm working to change that. Whenever I see comments come in with additional information on a pottery, I post it on my site – some of the information is correct, come of it is not. And there isn't really a way to know which it is until the process of gathering the information in complete. And, for this pottery and artist, I'm closer than I've ever been to collecting authentic details.
Comments appeared on this site over the last few days from the Inéke van't Riet children, providing information I did not have for Ineke Porttery. I'm thrilled to be able to update the page using the information they have so kindly provided. Their comments reveal the love and respect they have for Inéke as a mother and for Inéke as an artist. Check out the updated information and comments on Ineke Pottery.