History
I've found very little about the history of this small BC pottery. There seems to be quite a few pieces to be found here in Western Canada – very free-form and organic in shapes and colours. I'll continue to look for information of the potter (and pottery), Íneke. If anyone has any info, please pass it along. I'd love to know more.
Dates: 1968 ?-2000 ?     [taken from a coffee mug of a 1968 regatta]
Artist: Ineke van't Riet
Profile:  Dutch-born ; attended George Jay Elementary in Victoria, BC in the 1950s ; possibly resided in Westlock, Alberta as recently as seven years ago ; believed to have passed away (see Comments below).  [NOTE: Ineke's granddaughter confirmed she passed away about 19 years ago, so could not have lived in Westlock, Alberta 7 years ago.]
Location: Victoria and Saanichton, BC. Her studio was located in the double cottage at Mt. Newton and West Saanich Rd.   [confirmed by family members]
Ineke pottery displays botanical motifs and may have been inspired by the vegetation that grew in the Butchart Gardens. Pieces are often hand-turned with artisan decoration of applied flowers (dogwood), in studio-pottery style.
Ineke pottery was made for specific places or events and many pieces were made for souvenir and gift shops, such as Mattick's Farm, a shopping center on Cordova Bay Rd, Victoria, BC, Victoria's world famous Butchart Gardens, and for shops on the BC Ferries. Pieces could be found in shops across western Canada.
Marks: inscribed, hand-scripted under glaze, stamped, hangtag, or any mark with a hangtag
Hangtag: shows woman at potter's wheel –  'Beautifully made on the Potterswheel by "Ineke" in Victoria B.C'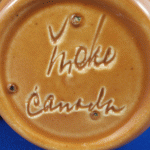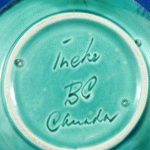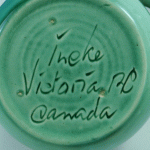 Mark variations:
Íneke Victoria B.C. Canada
Handmade by INEKE _ _ _ _ Victoria B.C. Canada
Handmade by INEKE _ _ _ _ Victoria B.C.
Íneke Canada
Íneke
Handmade Ineke Mattick's Farm Victoria BC [ink stamp]
Pottery Glaze info: Each pottery piece is unique, each has a unique glaze – no two glazes are alike
Autumn glaze

is known to be from 1972-73. Pumpkin and green, or green on caramel or sandstone.

Cobalt blue glaze

, script underglaze: Ineke Victoria BC Canada – 1991- [from CDR]

Yellow with caramel glaze

, square stamp: 'Handmade by Ineke, Victoria, BC Canada' – 2000 [from CDR]

Yellow with black

 

glaze

Orange rust with black glaze

(unusual)

Green with darker green glaze
Shapes & Forms:
The very popular free-form 'Baskets' were made from the 1970s – 1980s, and can be found in all of the glaze colours.
Pin dishes can be found with and without the applied 'dogwood' flower, and in most glaze colours.
Table cruet sets include a tray, salt & pepper shakers, oil pitcher, and lidded mustard pot.
Cups (espresso) and mugs (coffee & chocolate) may have a cute little 'water' creature on the bottom – I have seen frogs and ducks nestled comfortably on the bottom of these cups.
Vases range in size from tiny to medium size (5″ tall), and can be found in most of the typical glaze colours. They may have a smooth rim or a ruffled rim.
Small handled jugs seem to be used interchangeably as creamers in a cream & open sugar set and as stand-alone sauce pitchers.
Breakfast or luncheon sets include 2 small mugs, 2 egg cup holders, 2 Candle holders, Sugar & Creamer, Cruet set, Vinegar bottle, Bud floater vase.
Sculptural piece, Anne Hathaway's Cottage, Victoria, B.C. Canada. 3-1/2″ h, x 5-1/2″ l, x 2-1/2″ deep. Hand painted over incised lines – yellow roof, tan chimneys, grey stone, green grass base. (Fun, no doubt tourist, item.) Stamped mark: Made in Victoria, B.C. Canada. By Ineke (see Comment below).