It is surprisingly difficult to find in-depth information on the company, BC Ceramics. The following information was gathered many years ago as personal research, and I cannot currently find it anywhere online. I began with an article I found on the website, www.bcceramics.ca, (page not available), but I'd like to include information from it as I think it provides the most comprehensive background to the pottery.
Location & dates:
1954-1967 (Homer Street, Vancouver; distribution office in Toronto)
1967-1970 (Sunburst – Lethbridge)
People:
Frederick Leuchte

 [See Royal Ariston]

Walter Gerz

(d.1967) – Ceramics Engineer: responsible for the technical aspects of the business, including glazes and design of plant equipment [1954-1967]

Herta Gerz

(1913-2005) – artist, décor designer, trainer  [See Herta]
Markets: Department stores, Birks Jewellers across Canada, and foreign markets
Transitions: from Importex Company (Royal Ariston) to BC Ceramics (Vancouver) to Sunburst (Lethbridge)
The following info is from "BC Ceramics: History" by Allan Collier, Victoria, BC, written sometime before June 2012.
History 
"BC Ceramics was a Vancouver-based ceramics company in business between 1954/55 and the early Seventies. The Company produced contemporary giftware…from its multi-storied facility on Homer Street in downtown Vancouver.
Common Forms and Shapes
"BC Ceramics produced hundreds of different items including dishes, bowls, vases, pitchers, ashtrays, candle holders, planters, promotional items, lamp bases, and figurines. While some are similar to designs by other manufacturers, many are unique to BC Ceramics.
"All products, except lamps, were marked with a clear 4-digit mould number which was most often impressed, but sometimes in relief or handwritten, on the bottom. Items with an "A" following the mould number are alternate versions or part of a pair (e.g.Salt and Pepper).
"Each number refers to a specific item or shape. A large percentage of these, including the lamp bases, ashtrays, bowls, vases, and other container forms, were available in about 20 common "decors".
Decoration
"Apart from figurines, almost all BC Ceramics pieces were decorated with décors, native motifs, surface textures, and colour glazes unique to the company.
"Both glossy and matte glazes are common, often in several colours – "twintone", mottled, or speckled – or in monochrome, plain black, gray, cream or white. Dimpled, rough surfaces and sgraffito markings are also evident on bowls and vases.
Identification
"In most cases, BC Ceramic pieces can be identified by form, mould number, or unique decoration alone. Fortunately, most items also have additional features, markings, or labels which makes identification that much easier.
"Practically all BC Ceramic articles have a well-formed and unglazed foot "ring" on the bottom. (Some dishes and shallow bowls have feet located at one end and no foot "ring")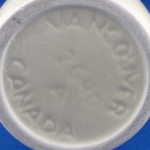 "Some pieces come with paper labels in one of several different styles or colours…there is also a label in the shape of a maple leaf.
"In addition to the 4-digit mould number – usually impressed, but sometimes in relief – many items have "Vancouver," or "Canada" (or both) impressed on the bottom.
"Often, handwritten inscriptions such as "By Herta" or "Décor by Herta" or the name of the décor, appear on the bottom along with the mould number."
The company ceased operations as BC Ceramics around 1970 when it was acquired by Sunburst Ceramics of Lethbridge, Alberta.
---
I will provide as much credit to the author as possible, and if anyone can provide me more info on the source, please contact me.
I would like to thank Allen Collier for the information provided.
This additional information came from Jim Meadows:
"I was the mold maker and managed the tunnel kiln at BC Ceramics in 1966 – 67 and was recently inspired to look into that history when I saw pieces by Herta Gerz at the "Modern in the Making" exhibit at the Vancouver Art Gallery – Allan Collier curated. The most memorable mold was my first custom piece made from the paw of a grizzly bear and turned into an ashtray (claws up!) for a lodge in the north. It was grotesque but also typical of many of the "kitch" designs they produced. Ten years later, the seed from that experience lead me to establish Great Canadian Design Works where we developed the technique of slip casting to produce very contemporary simple designs in porcelain. At that time, slip casting was looked down upon by the pottery community, but we eventually received recognition and I was asked to conduct workshops on the technique. Thank you for the information provided here."  [Comment received Jan 2021]